Peacock Hair Color Ideas
Summer 2019 is going to be the summer of color. One of the big hair color trends is going to be peacock hair and yes, it is exactly what it sounds like. All the beautiful colors of a peacock feather – purple, blue, teal, and green – are combined to create such an eye-catching look, whether you go for all over color or some subtle highlights. You can choose vibrant peacock colors, something a little darker, combine the colors with your natural tone, or try pastel shades…there really is so much scope for experimentation. So, why not get inspired by all of our favorite peacock hair color looks.
1.Dark Peacock Hair
The deep violet and dark blue base tones of this peacock hair are absolutely stunning. They provide the perfect contrast for those chunky slices of vibrant lime green. We love the darker more moody take on the peacock hair color trend.
2.Super Long Peacock Ombre
How amazing is this peacock ombre. It is such an interesting take on the trend by graduating from a rich purple shade at the roots, through to a cyan blue, and to a lime green at the tips. It looks so impactful, with each of the colors really standing out.
3.Colorful Peacock Pixie
Contemporary and cool, this colorful pixie is bursting with gorgeous peacock tones. The seemingly random application of all the different shades of blue, purple, and green has given the hair real vibrancy, as well as enhancing the great texture and movement of the cut. Exceptional!
4.Bold Peacock Hair with Beachy Texture
This peacock hair definitely has a mermaid feel to it, don't you think? The beautiful thick slices of teal, streaks of royal blue, and touches of deep purple are all the shades of a tropical ocean. The beachy texture of the waves is pretty dreamy too.
5.Dark Chocolate Curls with Peacock Tips
The dark chocolate base color of this hair is so rich and luxurious and we love how the tips have been lifted with some peacock colors. The emerald green, ocean blue, and violet tones are the perfect complement to glossy chocolate locks.
6.Icy Blonde Hair with Pastel Peacock Balayage
Light tones are also a great base for peacock tones. A peacock balayage contrasts so well with the silver base color, making each of the tones really pop. Very ethereal!
7.Long and Vibrant Peacock Hair
We love how this peacock hair has just hints of purple, instead of focusing on the gorgeous blues and greens of a peacock's beautiful plumage. The colors blend together like water and have such a wonderful sheen to them. Loving the peacock hair feather accessory too.
8.Peacock Nape Undercut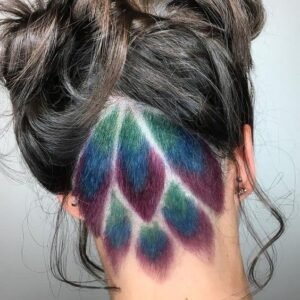 For an edgier take on the peacock hair color trend, why not go for an on-trend nape undercut? The nape of the neck has been shaved in peacock feather shapes, which have been dyed in the bird's trademark colors. With a nape undercut you are not locked into a design, after a few weeks you can shave it off and start again.
9.Asymmetric Bob with Peekaboo Peacock Highlights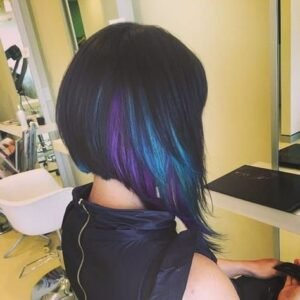 The cut of this asymmetric bob is absolutely amazing and the black color is the perfect contrast to make those peekaboo highlights really pop. Such a striking look.
10.Silver Pixie with Peacock Highlights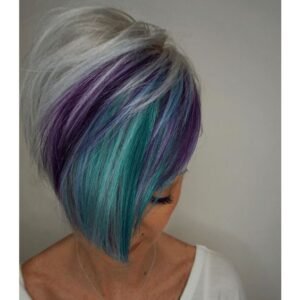 This two-tone hair color look is out of this world. The grown-out pixie is a wonderful silver shade around the crown and incredible peacock colors through the bangs. So impactful!
11.Subtle Peacock Highlights
For a more subtle, but no less stunning, take on the peacock hair trend, why not try these subtle highlights through a black base. The deep blue and lime green work so well with the dark hair color and the think slices of color through the bangs look great too.
12.Auburn Hair with Chunky Peacock Slices
We are loving this unusual take on the peacock hair trend. The natural auburn of the top section of hair is gorgeous and somehow works with the thick slice of peacock colors at the back of the head. It is such an interesting mix of colors that is so eye-catching.
13.Bright and Beautiful Peacock Waves
There is so much vibrancy to this peacock hair. Thick slices of color, prevent the individual tones of green, blue, and purple from blending into one another. Each tone stands out, and are accentuated thanks to those lovely soft waves.
14.Ash Brown Bob with Peacock Tips
There is a bit of a grunge feel to these ash brown locks with peacock tips, don't you think? The tousled waves and the smokey hair colors make for a tougher take on the peacock trend. Really cool.
15.Super Sleek Peacock Ombre
The high shine of this peacock ombre is unbelievable. The glossy finish gives the colors an extra pop and the colors have been blended so well together for a seamless transition from bright violet to vibrant teal.
16.Peacock Hair with Vibrant Underlights
17.Dark Blue Base with Teal Ombre
18.Gorgeous Peacock Bob with Space Bob
19.Stunning Peacock Braid
20.Black Base with Peacock Highlights
21.Deep and Dark Peacock Wavy Bob
22.Statement Slices of Color
23.Pastel Peacock Asymmetric Bob
24.Chocolate Bob with Peacock Underlights
25.Amazing Multi-Tonal Peacock Hair
26.Rich Blue and Green Tones
27.Peacock Hair with Bright Face-Framing Highlights
28.Pastel Peacock Bob
29.Ash Blonde Hair with Peacock Ombre
30.Platinum Blonde Hair with Peacock Peekaboo Highlights