30 Trendiest Grey Hair Styles
As women age, our hair goes through changes along with the rest of our bodies. It may lose lustre, become thinner, or completely transform in texture, and at some point it will almost certainly go gray. While many women choose to fight gray hair for as long as possible, recent changes in our beliefs about feminine beauty being explicitly linked to youth have led many more middle-aged and senior women to embrace the natural shades of their aging hair. Allowing yourself to go gray saves time and money, while projecting an air of confidence that beauty is not age dependent. We've compiled 30 examples of gray hair styles to give middle-aged and senior women the motivation they need go au naturel.
1.Medium Natural Grey Curls
For many women, hair becomes more coarse as it turns gray, and this in turn affects how easy it is to style. Long natural curls may become less responsive to smoothing products, and more likely to appear frizzed out instead of luscious. This hairstyle brings natural curls into a chin length style that's more manageable, but still long enough to show them off.
2.Grey Lob With Long Layers
A trendy style amongst women of all ages, this shoulder length cut with long layers proves that grey hair can be playful and sexy. If you've got thinner hair, a cut like this without any bangs or short layers will do a good job at maximizing your hair's volume.
3.Classic Pixie Gray Hair Style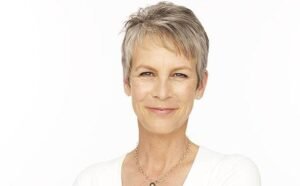 One of the pioneers of the movement to embrace grey hair, Jamie Lee Curtis has been wearing salt and pepper locks for nearly a decade. Her short cut is a great style to emulate if you're an active woman, but short hair isn't necessarily lower maintenance, as it often needs to be wet and re-styled in the morning.
4.Ultra Long gray hair styles
Many older women cut their hair shorter to better manage hair that is finer and drier than it used to be, while even more feel pressured to cut their grey hair short because of social conventions. Maintaining long, grey hair might take more work, but tricks like applying hair oils, UV protectants, and investing in a keratin smoothing treatment can help you keep your hair as long as possible.
5.Simple Three Strand Gray Braid
If you'd like to grow your gray hair long, this simple three strand braid is a quick and easy way to keep it secure and stylish throughout the day.
6.Short Natural Curly Grey Hair Styles
These natural curls are cropped fairly close to the head, showing off their texture while making styling quick and easy. Cutting hair shorter around the ears will help to lengthen the appearance of almost any face shape, and keeps your short style looking sophisticated and clean.
7.Stacked Gray Bob Style
Popular among professional women, the stacked bob is cut with a series of layers in the back that eliminate bulk from the nape of the neck, and left longer in the front. This stylish gray hair cut is especially recommended for women with naturally thick hair that becomes unmanageable without a well structured hairstyle.
8.Steel Grey Mid Length Cut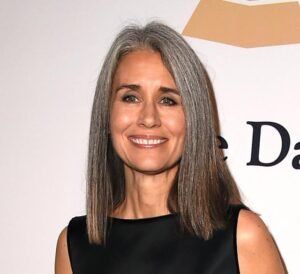 Embracing grey certainly does not mean accepting flat toned hair color. This fabulous mid length blunt cut is steel grey at the roots with some brunette hues throughout the ends.
9.Grey Bob With Parted Bangs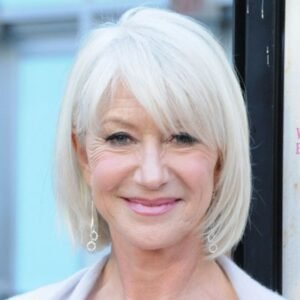 A bona fide sex symbol at seventy years old, Helen Mirren is an inspiration to women who don't want to pretend they're 25 forever. These bangs, cut with texture at the ends and parted similarly to the rest of the bob, frame the face without heavily overshadowing it.
10.Super Short Pixie 
If your hair has thinned with age, leaving it longer can accentuate this thinness, as hair weighs itself down and leaves areas of scalp exposed. This short pixie keeps hair closely cropped and doesn't leave any thin wispy tendrils behind.
11.Polished Bob gray hair styles
Making a power statement, this bob is cut with long pieces in the front that are swept back to create a chic statement cut.
12.Medium Grey Layered Style With Bangs
Lots of layers give this mid length cut bounce and movement, while layered bangs are left longer at the sides in a face framing style that is especially flattering to long or square faces.
13.Curly Grey Bob With Side Swept Bangs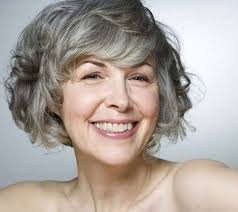 For painters, sculptors, and other creatives, this curled bob is the free-spirited cousin of a sleek bob style. Adding bangs is an easy way to make thick hair more manageable, although women with very curly hair may find them too difficult to style on a regular basis.
14.Chunky Side Braid Grey Hair
Just a quick browse online will reveal the pervasive popularity of braided hairstyles. From athletes to brides to little girls on their first day of school, braided styles are as trendy as they are versatile. This chunky side braid is easy to pull off, and shows off the various tones in anyone's hair.
15.Shaved Sides Gray Pixie Cut
If you're looking for an edgy way to spice up your gray style, Pixie gray hair styles with shaved sides is majorly on trend with younger women, and conveniently results in less hair to have to worry about styling. Growing out this cut can be frustrating, so it's recommended for women who are planning on sticking with a short style long term.
16.Silver Pigtail Braids 
While many older women gravitate towards classic, timeless hairstyles, going grey does not have to signal the end of participating in fashion trends. Beauty guru Linda Rodin's silvery strands are modern and trendy in messy pigtail braids paired with her signature bold eyewear and lip color.
17.Wispy Bang Pixie Gray Hair Style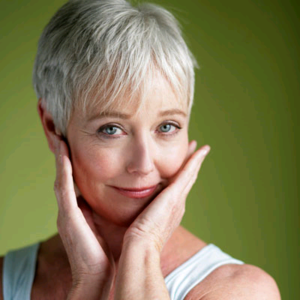 If you love short hair but want to conceal a large forehead or balance out a round face shape, this pixie is for you. Kept very close on the sides, longer hair in front is cut with lots of texture to create a fringe that frames the face without lying heavily against the forehead.
18.Glamour Grey Hair Style
Carmen Dell'Orefice, a working model into her eighties, is as known for her pearly hair as she is her impeccable bone structure. In this particularly glamorous style, hair is styled with lots of volume and swept off of the face, making it the perfect look for a charity gala, or the mother of the bride at a black tie wedding.
19.Pinned Grey Updo With Short Bangs
This simple grey style features curly hair that's been pulled back and pinned, with some tendrils left loose at the nape of the neck, for a wild, barely tamed style that will look perfect at a wedding ceremony in the forest.
20.Quirky Grey Pixie
This very short pixie is ideal for women who have coarse hair with some natural texture. Longer pieces left in front of the ears form little curled tendrils, making this pixie feel like it really is being worn by a fairy creature.
21.Wild Gray Curls
If your grey hair has maintained it's curl, or even developed some new ones, this long, wild style is the perfect way to show them off.
22.Silver Gray Layered Hair With Side Swept Bang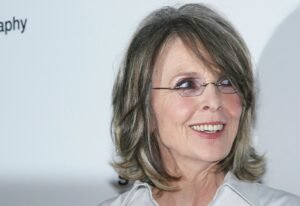 Another role model for embracing the aging process, Diane Keaton's signature layers and dark, heather grey color make for an interesting mixture of playful creative and wise sophisticate. This style will look best on you if you've got thick hair that's relatively straight, and these long side swept bangs are very flattering on round shaped faces.
23.Big Bold Gray Curls
In decades past, many older women have made frequent trips to the salon to have their short, grey hair set in a tight perm. This much updated version features big, bold curls that have lots of movement, and can be dressed up or down.
24.Wavy Grey Bob
Less rigidly structured than a precisely polished bob, this style features tousled waves and a deep side part that brings playful style to this dove colored hair.
25.Silvery Gray Crown Braid
A fun style at any age, this crown braid wraps around the head to create a simple updo that's appropriate for running errands, attending parties, and almost anything in between.
26.Grey Twist Hair Style
Twist hairstyles are a great way to protect natural hair that's on the longer side. For best effects, twist hair when it's damp and pre-treated with hair lotion, and sleep with a satin pillowcase or head wrap to keep hair from getting frizzy overnight.
27.Gray Curls With Side Swept Bangs
Glenn Close may have once played Cruella de Vil, but her silvery hairstyle here is anything but villainous. Bangs sweep across the forehead from a deep side part, and are an excellent choice for minimizing a large forehead. Subtle blonde highlighting adds a touch of glamour without trying to disguise the hair's natural pearly shade.
28.Grey Hair Style With Pink Ombre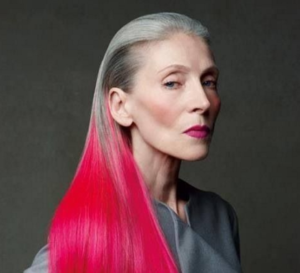 Why not embrace the grey, and participate in one of the hottest hair trends? Silvery white hairs lack their own pigment, which helps them take up vibrant colors quite easily.
29.Chic Head Wrap Grey Hair
Far from signalling a bad hair day, this head wrap is the perfect accessory to help you stay warm and stylish when it's chilly outside.
30.Barely There Grey Hair Style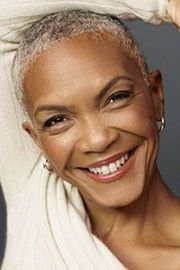 For the supremely confident woman, this no frills style will actually garner more attention than most longer looks.